Unique Opportunities With Eric Layman, Mavis Pittilla Authorized Teacher
Is your Spiritual Organization looking for someone to run a workshop, perform a public demonstration on Mediumship, or for a featured speaker at an engagement for your members and the community? With over 10 years of experience as a Spiritual Medium, Psychic, Mentor and Teacher, Eric would be the perfect candidate for your organization. Eric is available not only in the Greater Cincinnati Region, but also within the continental United States and Central Europe.
Spiritual Medium Eric Layman has worked extensively with the world-renowned U.K. medium Mavis Pittilla. He has learned many of Mavis' tips and techniques to deliver exceptional evidence and to allow the essence of the spirit communicator to be felt by audiences. Eric has worked on the platform many times in the U.K. under the guidance of Mavis, delivering evidence based and heart-felt communication from loved ones in the Spirit World. He has been formally declared by Mavis and her partner Jean, as a Mavis Pittilla Authorized Teach of the "Whole Medium". Eric began his mentoring and teaching, as a natural next step and evolution in his Spiritual growth, over 3 years ago. And like Mavis, Eric believes the spirituality and reverence of this work are just as important as the mechanics, and he strives to instill the same values, ethics, integrity and service-oriented ministry in his students.
He has had the privilege to have demonstrated mediumship from the platform at several spiritualist churches in England, including Longton National Spiritualist Church, the former church of the late-great medium Gordan Higginson. Thanks to technology, he has done private sittings internationally including England, Japan, and Austria.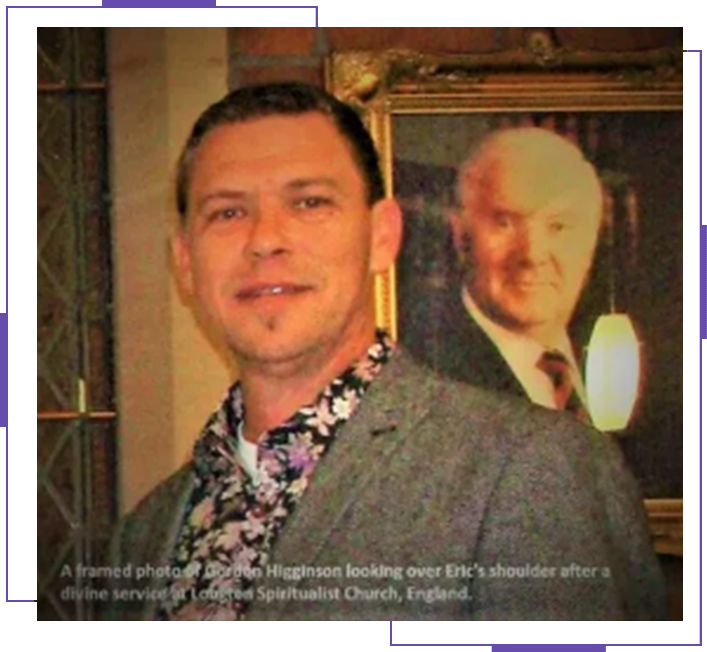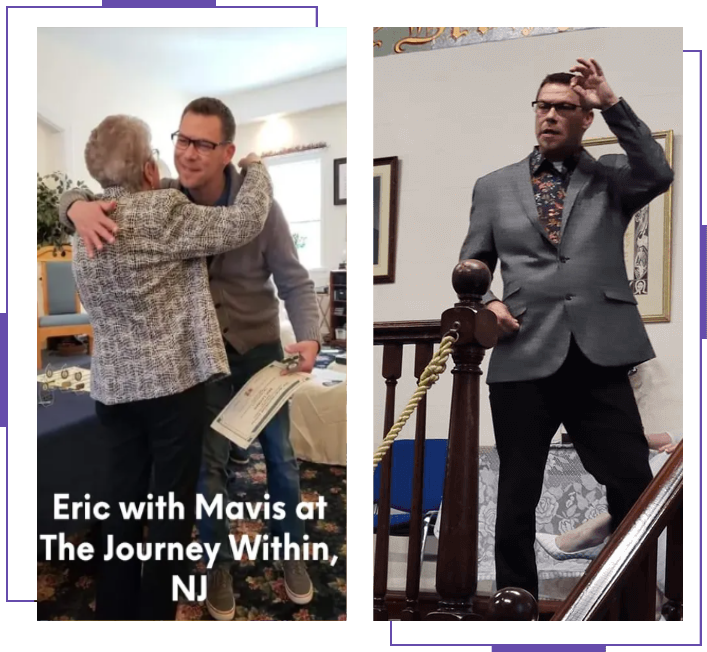 For more information about hosting Eric please send an email to [email protected].
BETTER BLENDING FOR MORE MEANINGFUL COMMUNICATION
AUTHORIZED MAVIS PITTILLA TEACHER!
MECHANICS AND REVERENCE!
Allow Eric to work with you to enhance and broaden your evidence through practical exercises and helpful teachings. He will help you to build your power to promote a better blending with the spirit world and allow true communication to unfold. Working with the psychic learn how to better blend with the incarnate spirit of your sitter for much more accuracy and a more well-rounded psychic sitting.
Learn to better understand yourself and your soul while strengthening the trust-bond between the two, so that you are more equipped to work together for a lifetime of gratifying service. A service of healing that not only heals the bereaved, but also the very real people in the Spirit World.
LEARN TO:
As a Mavis Pittilla Authorized Teacher, Eric will help you to
· Better Blend with the Spirit Communicator
· Allow the essence of Spirit to be felt by your sitter(s)
· Engage in true Communication
· Build more Trust in the Spirit World and your ability
· Deliver more varied and specific evidence
· Increase your confidence in the power of your own soul
· Take Mediumship to the Next Level